Driving the OPP - The History of OPP Chauffeurs
It is difficult to imagine an era in which people did not drive, but in the 1920s many Ontarians still did not own vehicles let alone possess drivers' licences.
Chauffeurs were commonly assigned to OPP district headquarters throughout the province. OPP Commissioner V.A.S. Williams even issued a strong reminder that "District Inspectors will be held personally responsible that cars on Government charge are properly looked after and driven only by those who understand the handling of same" (OPP Order No. 2, May 3, 1922).
OPP chauffeurs were held in high esteem by the organization. On occasion, they were promoted to the rank of Provincial Constable, the recipients of commendations, and granted the powers of a Provincial Constable.
When Chauffeur James Cantwell (appointed on June 21, 1922) died in 1942, his name was included on the "In Memoriam" page in the 1942 Annual Report, along with a kind eulogy, "[he] gave efficient service at HQ Garage in Toronto and No. 7 DHQ [District Headquarters] Barrie."
By 1951, the OPP chauffeur compliment was down to three. In 1952, civilian staff members were listed as "civilians" and were no longer identified by their professions in OPP Annual Reports.
Eventually, the assignment of chauffeurs to district and regional headquarters ceased and only the OPP Commissioner was entitled to a driver. Angelo (Angie) Sabatini drove Commissioners Silk, Graham, Erskine, Ferguson and O'Grady through the 1960s into the late 1990s; Barry Wynne chauffeured Commissioner Boniface until 2006.
Mr. Clifford Sharp, Chauffeur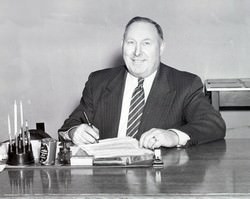 The 42-year career of Mr. Clifford Sharp is an excellent example of civilian employee dedication and devotion to duty. He was hired in 1922 as a chauffeur and retired as Assistant Superintendent of Garages in Port Arthur (now part of Thunder Bay) in 1964.
Clifford Sharp drove the officers associated with No. 9 district headquarters at Port Arthur. In 1922, he was one of nine chauffeurs deployed within six of the nine OPP districts. Seventeen automobiles were also part of the OPP's "strength and distribution" (Annual Report of The Commissioner of the Ontario Provincial Police, 1922).
During Sharp's career, his wife Ethel kept a scrapbook with newspaper clippings related to OPP officers and investigations in Ontario's northwest region. Away from his job, Sharp was a champion oarsman, representing the Port Arthur Rowing Club at international regattas. His rowing nickname was "Calling-All-Cars."
In addition to the scrapbook, the museum has a photo album related to Sharp's career as an OPP chauffeur. It is filled with interesting images (taken mostly during the winter months) of policing in the north during the 1920s through the 1950s. Gas ration coupon booklets from World War II and chauffeur identifications pins from the 1920s are also part of this unique collection, donated by Retired Detective Constable Gil and Sonia Johnson (2007.250).
Clifford Sharp shared a close relationship with the officers he worked with throughout his career. He and Corporal Albert Ericksen had a joint retirement party on June 24, 1964 at the Moose Hall in Port Arthur. Tickets were $2 per person and there was dancing from 9 p.m. to 1:00 a.m.!
Photo Gallery