Vintage Vehicles
Finding the fastest, easiest and most economical method of travel has always been a challenge for police officers in Ontario. Considering the vast distances and varied landscapes that OPP officers face on a daily basis, having a fleet of reliable and suitable vehicles has always been a priority.
In the earliest days, officers relied on whatever was at hand, including hired horses or cars, busses, trains or even bicycles, and perhaps most commonly, their own two feet. In the 1930s, many officers were assigned to motorcycle patrol duty where they purchased their own motorcycles and were reimbursed for gas and maintenance expenses. As traffic increased on the roads, motorcycles were gradually replaced by unmarked and marked patrol vehicles that belonged to the OPP directly. Trucks, cars and larger "station wagons" eventually became commonplace, most with the now iconic OPP black and white paint scheme.
As the decades passed, other transport methods were introduced. The Marine Unit was established with the purchase of the first two patrol boats in 1949 (including Temagami, a mahogany Shepherd vessel currently on display at GHQ). Traffic enforcement took to the skies in 1966 when the OPP utilized small fixed wing planes for this dedicated purpose. Early experiments with rented or borrowed helicopters resulted in the purchase of two dedicated helicopters creating the Helicopter Unit in 1974.
In 1974, the OPP also launched the Northwest Patrol Unit with a dedicated plane to serve Ontario's northern communities. A second plane was added two years later in 1976 expanding service to create the Northeast Patrol Unit. The OPP still maintains a passenger plane for a variety of reasons. The 2013 turbo-prop Pilatus currently operated out of Thunder Bay, transports about 250 people a month, 75 percent of the time the aircraft is flying in and out of northern communities.
Snowmobiles came into regular use in the 1960s with the first purchase of several OMC Snowcruisers and later Bombardier Skidoos. As the technology has evolved, so too has the fleet, perhaps especially for the OPP's specialized units.
OPP vintage vehicles currently on display at OPP General Headquarters: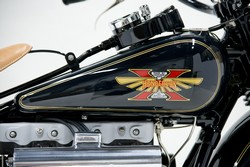 1931 Henderson Streamline Special KL Motorcycle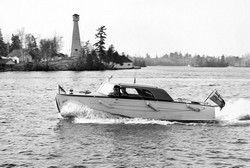 Temagami - 1949 Shepherd Runabout Sedan vessel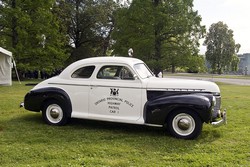 Car 1 - 1941 Chevrolet Master Deluxe Coupe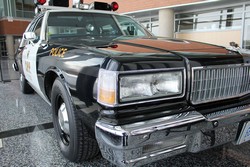 Car 7-500 - 1989 Chevrolet Caprice Police Model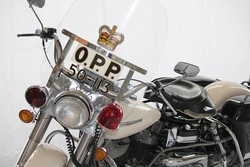 1977 Harley Davidson Police Special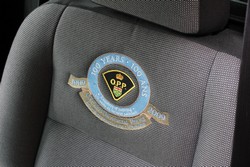 Car 29-100 - 2009 Ford Crown Victoria Police Interceptor
OPP vintage vehicles not currently on display: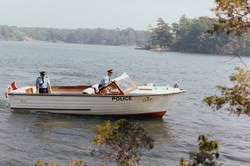 John Wilson Murray - 1968 26' Cliffe Craft vessel