The OPP Museum Time Capsule Project
From February to May of 2009, members of the general public as well as retired and current OPP members submitted materials to be considered for The OPP Museum Time Capsule Project – an exciting 100th anniversary initiative.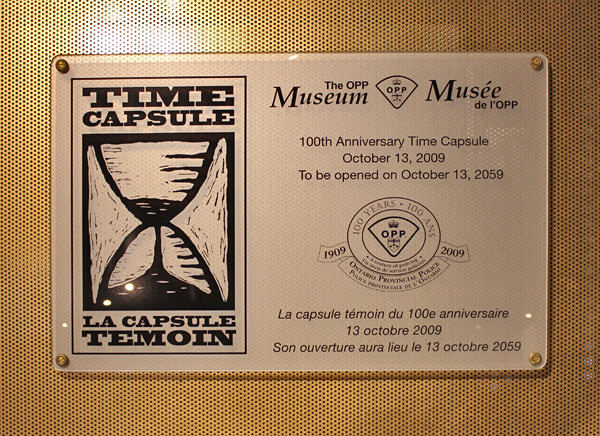 The jury of three, OPP Commissioner (Retired) Thomas B. O'Grady, Chief Executive Officer for United Way of Greater Simcoe County Seija Suutari, and President of the Ontario Museum Association Tammy Adkin, had to make difficult decisions about what would reflect a wealth of stories, memories and experiences from across the province. They were particularly concerned to include material that would be of interest to those of the next generation, and beyond.
On October 13, 2009 and as part of a major OPP celebration, the creation and closing of the Time Capsule was marked by a brief ceremony. The Time Capsule is housed within The OPP Museum, to be re-opened upon the OPP's 150th Anniversary, in 2059.