Commemorative Patrol
On February 1, 2009, as part of the OPP's 100th Anniversary, Provincial Constables Erik Howells and Guy Higgott embarked on a journey by dog sled, snowshoe and rail to pay tribute to Ontario Provincial Police officers who, since the early years of the last century, served the communities of Ontario's North, through a trek dubbed the "Commemorative Patrol."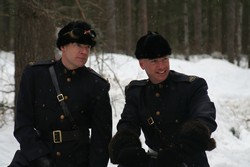 Over a period of three weeks, Howells and Higgott, along with a trained dog sled guide, followed a route that took them just over 1,000 kilometres through Ontario's north. Wearing reproduction period uniforms (1922 – 1939) and using traditional equipment and wilderness survival skills while travelling in the bush, they began their journey in Hearst and made stops in Kapuskasing, Timmins/South Porcupine, Cochrane, Moosonee and then travelled back to Cochrane by train.
The expedition was a salute to the hardiness, resourcefulness and the determination of the officers who have worked and lived in Ontario's northern communities for decades. Whether it was using a railway speeder, flagging down a freight train, borrowing a canoe, setting out into the bush on snowshoes with a toboggan for supplies or engaging a guide and dog sled team, historically, OPP members have consistently proven their dedication to duty.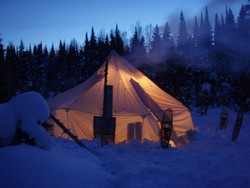 The patrol provided significant physical and endurance challenges for the two modern-day OPP officers. During the 1920s and 30s, a typical patrol range for one lone officer was 280 kilometres. In 1933/34, it was noted that the Elk Lake detachment constable covered the entire area of Matachewan and Gowganda, in the District of Temiskaming and that prisoners had to be taken all the way to Haileybury, the nearest place of detention, a distance of over 50 miles. As the 1926 OPP Annual Report states, "A number of long and arduous trips into the wilderness were undertaken by the men of the 3 northern districts, by snowshoe, dog team and canoe many of which entailed very great hardships for those concerned, but I am pleased to say that with the exception of frozen feet and faces, they all came through without any mishap."
While the 2009 Commemorative Patrol was not about pursuing criminals into the bush, it was very successful in connecting with communities. Howells and Higgott and their support team were well received in every community they visited, providing interesting talks to local groups about OPP history and policing in the north. They were hosted by local groups to fine meals and conversations and connected with kids to talk about their travel experiences, though the dogs routinely "stole the show" getting a good deal of the attention.
Reflecting on their time on the Patrol, Howells and Higgott were appreciative of the unique and special opportunity this experience was to honour those who have gone before and connect with those whose lives are rooted in Ontario's unique and varied northern communities.
Photo Gallery