Celebrating Women in Policing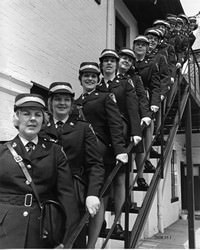 In the early 1970s, attitudes towards women in policing were mixed. While all policing organizations employed women in civilian roles as receptionists or data entry clerks, very few employed them as uniformed members. In Ontario, the Solicitor-General's Office formed a task force in 1972 to conduct a full review of policing practices throughout the province. It was found in the OPP that female civilians, as well as many officers' wives were increasingly being asked to perform "officer" duties, such as searching or guarding female prisoners, and questioning why they weren't permitted to serve as full uniform officers.
Many within the OPP, including its Commissioner, Harold H. Graham, were supportive of recruiting women as full provincial constables. When the Task Force's final report was released in February 1974 making recommendations aimed at "increasing the diversity of skills, culture, gender and age represented in police services in Ontario," Graham acted swiftly and fifteen women were counted among the provincial constable graduates on June 21st, 1974.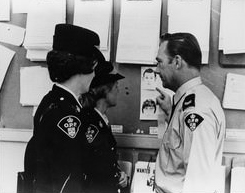 Women faced varying degrees of challenges as they embarked on their new careers. Some were met at detachments with open minds and a willingness to teach, others with closed doors and the belief that the female physical stature was not suited to the nature of police work. Fellow officers were not the only ones learning to make adjustments as the "oddity" of seeing a woman in uniform at an accident scene or during an arrest was routinely remarked on in newspapers and in the communities where these women were posted. It didn't help that female officers truly didn't look the same as their male counterparts. The "first fifteen" were issued a different uniform which consisted of a skirt, blouse, feminine tie with silver ring, heeled shoes and a purse with a built in holster. It was quickly realized, however that this uniform was not practical in the field and by the second class to include women, Sam Browne duty belts had replaced the purses and officers could choose to wear pants for day to day operational duties.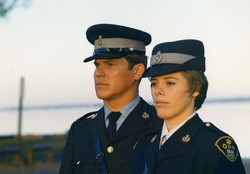 The desire to ensure that women "looked" different from men continued, however. The heeled shoes remained for three years until they were replaced by boots, skirts remained required wear for dress occasions for a full decade when they were finally discontinued in 1985, and the "female" style hats were the standard for the next fifteen years when popular opinion among the female members prevailed and all members transitioned to the same peak style cap in 1989.
In total, 39 women joined the OPP that first year, with numbers slowly climbing to 99 women in uniform by 1982. Some later chose to move on to other careers, or quit policing when they decided to have children. Several others chose to make policing their lifelong career and retired reflecting on both triumphs and challenges. Irena Lawrenson, the first woman to be promoted through the ranks to Inspector, joined in 1974 and retired 31 years later in 2005.
When Angie McCollum was in high school, she dreamed of being a police officer, but this wasn't an option available to her as she failed to meet the height and weight restrictions. By the time she graduated from university, however, the last of the physical restrictions on police officers had finally been lifted and McCollum joined the OPP in 1991. At 5'1" tall and 106 pounds, she was the smallest officer on record at the time and her entire uniform had to be custom tailored, including her extra small, extra short ballistic vest.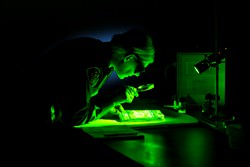 The next 40 years reads like a "to do" list of milestone accomplishments as women made their mark on the organization. Undercover work, for example, was a natural fit for women and pioneers like Barb Taylor, Sue Lloyd, Kate Lines and many others demonstrated that front line policing was not their only skill. Lines goes on to become the OPP's first female Detective Inspector. The following decades saw increased variety in the roles taken on by women who have now been represented in criminal investigation, motorcycle patrol, crisis negotiation, drug enforcement, forensics, intelligence, VIP security, emergency response, marine operations, bicycle patrol, Aboriginal Policing, firearms training, underwater search and recovery and so much more.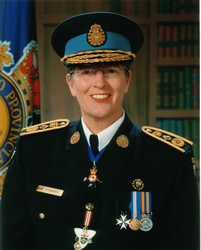 In 1984, Dona Brown was the first woman promoted to corporal, opening the door for others to soon follow. By 1987, ten women held the corporal rank. In 1998, the OPP appointed Gwen Boniface, who had joined the force in 1977, to the role of Commissioner. She served as the first female president of the Canadian Association of Chiefs of Police. All nine ranks within the organization have now been held by at least one woman. Sadly, the OPP also marked the loss of its first female officer in the line of duty in 2000 with the death of Sergeant Margaret Eve.
Tailored recruiting efforts have sought to draw more women to the policing profession. In 1976 female officers accounted for 1.6% of the total uniform count. By the end of the Employment Equity program in 1995, that number had jumped to 13.6%. In 2014, female officers accounted for 20.8% of the OPP's total uniform members.
While female civilians have been an essential part of the OPP workforce from its earliest days 105 years ago, it is important to also acknowledge the much more diverse roles that they now play. Every day women offer their professional expertise in increasingly diverse areas including communications, forensic investigation, intelligence and data analysis and many more.
"After 40 years, the pioneering women of the OPP remain an inspiration for all recruits who have followed and will follow them. In my 30 years with the OPP, I have had the privilege to work with many inspiring women – both uniform and civilian. The future holds no shortage of opportunities for recruits of all genders and backgrounds to become exceptional leaders, to innovate and to reach for even greater heights." - Commissioner J.V.N. (Vince) Hawkes
These are just a few of the stories of the women of the OPP. If you would like to share your experiences, the OPP Museum would love to hear from you. The museum collects photos, artifacts and preserves the memories of OPP officers and their families. Contact us today at opp.museum@opp.ca or by phone at 705-329-6889.
Photo Gallery